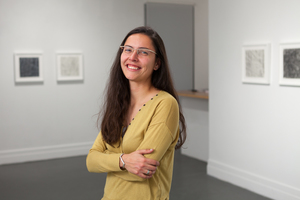 Statement & Biography
I seek to discover in my drawings a confluence of the spiritual and material. My works are created through a meditative process of tracing, eliminating, finding and forging drawn lines on the surface of the paper. These accumulated marks become intertwined layers and untraceable histories of past, present and future.

Erin Wiersma was born in Somerville, New Jersey, received a B.A. degree at Messiah College, Grantham, PA, and an M.F.A. from the University of Connecticut, Storrs, CT. She currently resides in Manhattan, Kansas, where she is an Associate Professor of Art at Kansas State University.